Crafts that unite, heal, and last is a global textile movement initiated by L.Christeseva in spring 2022 with women around the world. It is an artistic and curatorial response to the war in Ukraine with all the human costs, displacement, famine, poverty, injury, and disease, threatening the entire world. Through joint weaving, Ludmila Christeseva unites people for creativity, hope, and optimism. The former Swedish Minister of Foreign Affairs Ann Linde participated in L.Christeseva's textile workshop during her exhibition at the Swedish Museum of Army on May 2022.
GLOBAL SISTERHOOD: WOMEN WEAVE FOR PEACE
Written by: Konca Yumlu
Tons of recycled textiles and clothes from Swedish, Turkish, American, and many other homes serve today as material for women around the world to connect, understand, and support each other.
Our home-weaving workshop began in August 2022 with an aim to connect Belarusian female artists and Turkish rural women in a sincere dialogue during the artist in residency stay in Urla, Turkey. Crafts were used as a language for participants to share their experiences of being women, mothers, and sisters – and to facilitate an understanding of each other.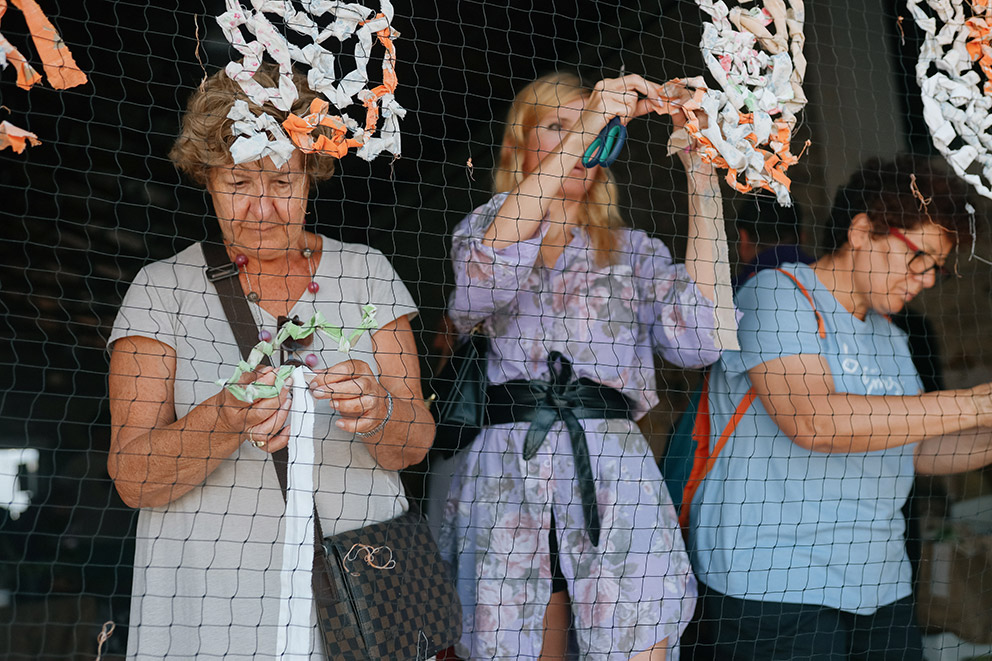 The workshop was inspired by the current war in Ukraine, moving the Belarusian artist and curator Ludmila Christeseva to launch a series of textile workshops for Ukrainian refugees. During the Spring of 2022, Christeseva produced handmade camouflage nets together with Ukrainian women to save the lives of their husbands, fathers, and sons, which demonstrates how vital crafts are and have been through generations and cultures. Without speaking the same language, the artist could witness how friendship and integration became possible through the mere act of creating together.  
While Ukrainian sisters continue to intertwine recycled textiles from Swedish homes with their grief and loneliness to support their families in the war, Christeseva meets women around the world who find the process of designing for their homes and families acts as a way of expressing themselves creatively. For them it is both a duty and a pleasure.  Such self-expression, however, has never been a feasible source of income. This has not changed for generations and has led Christeseva to place her curatorial focus on artisan know-how and female creativity, prompting learning through doing and creating.  
Can women from different cultures come together and use traditional craftsmanship as a platform for learning, inspiration, empowerment and collaboration? How do I meet other women and connect with them? asked Christeseva.
Gradually, a strong and symbolic project has emerged, full of hope and optimism: Crafts that unite, heal, and last. With support from the Swedish Institute Creative Force Grant Program, Christeseva engaged in dialogue with her international colleagues: Belarusian gender expert Irina Solomatina, Turkish colleague Konca Yumlu, Swedish professor of fashion- and film- studies Louise Wallenberg, and the Swedish cultural producer Ulrika Skoog Holmgaard. She also invited Belarusian artists to Turkey for an artist in residency program where they met and crafted together with Turkish urban women. In a naturally preserved 45-acres land surrounded by pine forests in the Kuşçular district of Urla, the artists were welcomed by the founding director of K2 Contemporary Art Center Ayşegül Kurtel to K2 Breathing Zone for inspiration.
In the middle of this picturesque landscape, the Belarusian artists were taken care of by two local women, Belgin Narci and Seyhan Aydin, who would cook and serve delicious Turkish meals for them. No one could ever have imagined, that things could be turned upside-down in a such a short period of time, but so it did and after only one week of the residency. On the 28th of August, the Belarusian artists and Swedish experts would take over the kitchen and cook for their new friends the best recipes from their homes thereby sharing the experiences of being women, wives, and sisters. The performance dinner was served in the middle of the field full of eggplants, paprikas, and fresh tomatoes under a pine tree. The Turkish urban women eagerly invited their best friends to share the experience – Zeliha Aka and Elif Güçlü Ok.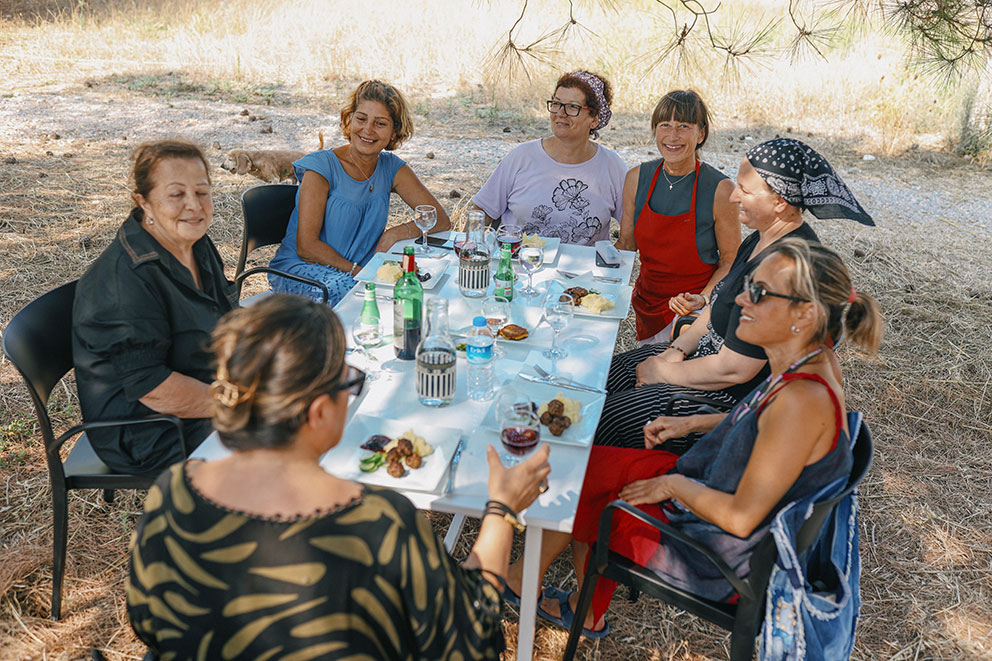 This would lead the international team to the next chapter of the project – when Turkish women would invite them to visit a Women's Saturday market in Urla – Cumartesi Kadın Üretici Pazarı, Urla, Eski Tamirhane Binası – to explore delicate handicrafts, canning, jams, lemonades, and delicious Turkish pastries like baklava. There, they met with many female entrepreneurs including Berna Sen Senol and Dicle Incal, which would lead them next to a study visit of a female village in Ekoköy, and also to an agricultural farm, Urlaroots, run by Hulya Kazmirci.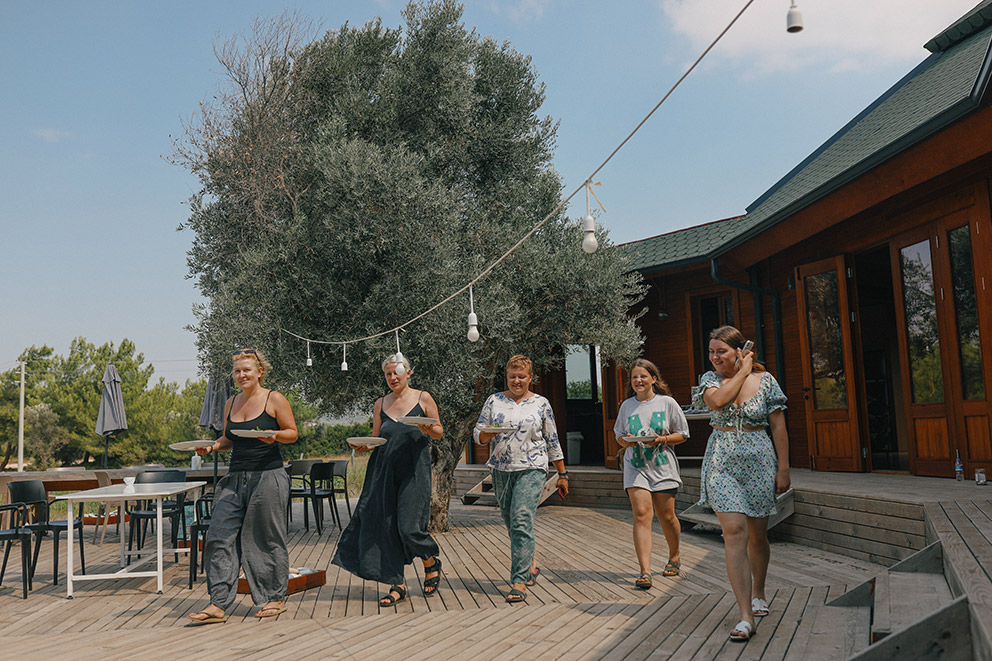 Thus, moving from one invitation to another, the Belarusian artists and Swedish experts would weave together with Turkish women, standing as one in solidarity, a huge textile sculpture: the net entitled "Home", a net full of hope and optimism.
Crafts would become their language for sharing their experiences of being women, wives, sisters, and daughters in different cultural contexts. This handiwork even encouraged local men to participate and weave a band and they discovered the feeling of belonging to a certain nation or culture, as well as the experience of breaking away from one culture and committing yourself to another. They also embraced the myriads of other yet-to-be discovered cultural traits, tastes, and experiences. What comprises us as individuals in this collective global world, full of constant traveling, and in the current landscape of increasing human migration and armed conflicts? Where is HOME?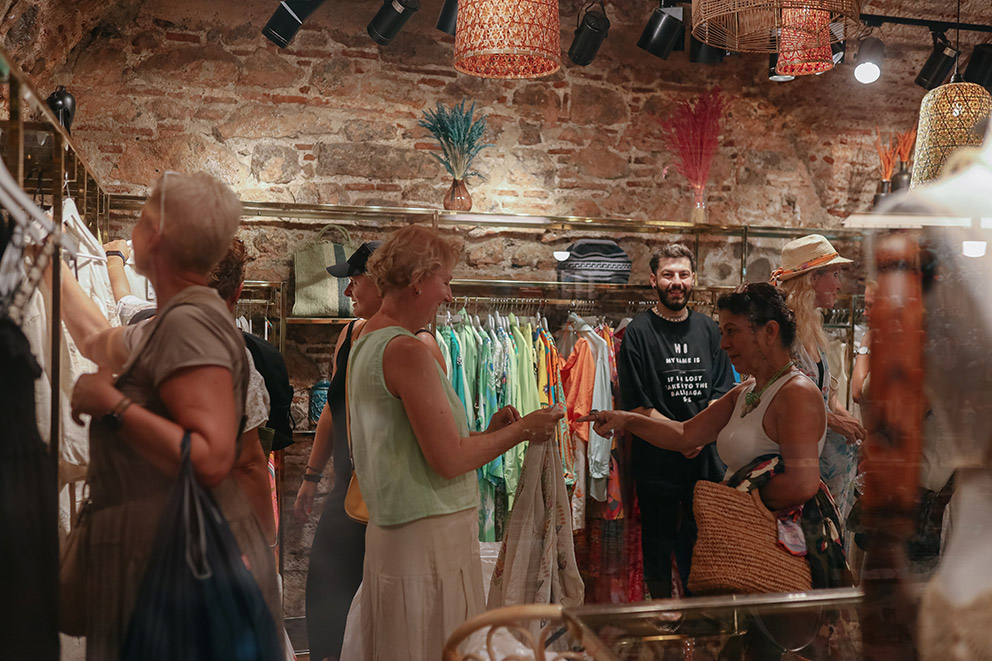 While these questions remain rhetorical, a strong and symbolic project has evolved and it continues to inspire and empower women around the world towards visibility and success: Crafts that unite, heal, and last.  Ludmila Christeseva will carry the Home Net with her around the world. First, she is bringing it back home to Sweden to showcase it at Svenskt Tenn during her meeting with the curator Per Ahldén. She has also introduced the project within the framework for the performance festival "In the act of weaving", directed by Nefeli Oikonomou. Today, Christeseva is at Mana Contemporary for ESKFF foundation as an artist in residency, teaching how to weave a net called Home together and serving a Swedish Fika.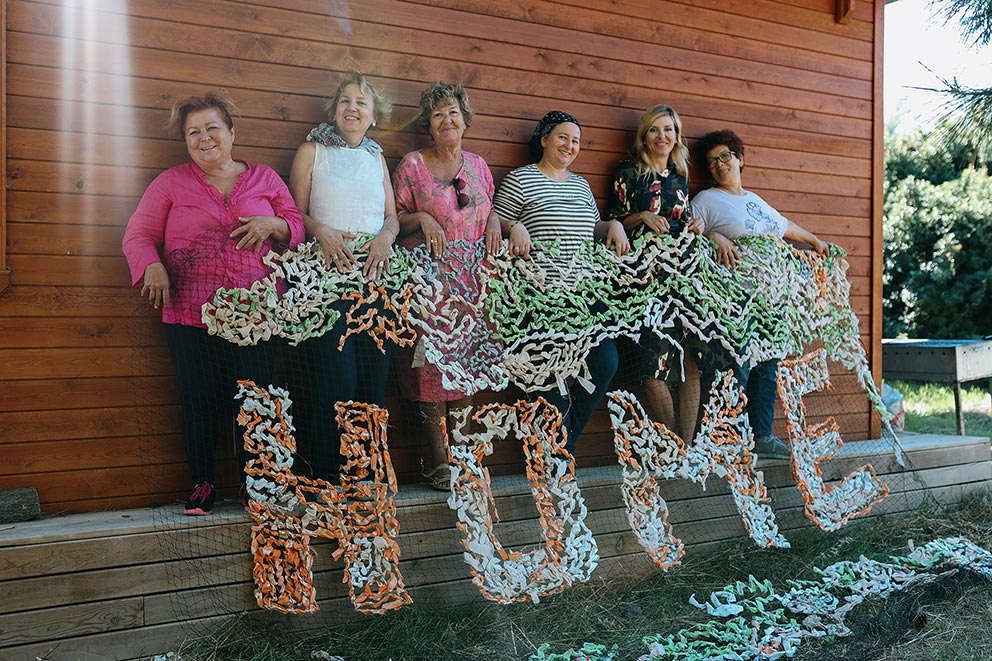 Her sisters, the Belarusian artists, meanwhile are inspired to launch a grant in Spring 2023 for a young female art collective with a connection to Turkey in order to support, empower, and create a history for women together with young minds.former